Offsite Shredding in Ventura, CA
Offsite shredding is the traditional secure method of shredding and it's still widely in use across Ventura today. In fact, if you have a very large project, or you know you will be needing regular shredding services, then off site shredding may be the best option for you.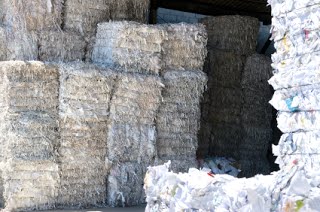 Offsite shredding is compliant with every current federal and California privacy law, including HIPAA and FACTA. This service is preferred because it is often cheaper than on site shredding and considerably less time-consuming. We'll gladly schedule a one-time purge or ongoing services in which we'll provide you with secure bins for you to store your documents inside between shredding services.
How the Offsite Shredding Process Works in Ventura
Your documents are collected by trained security personnel and loaded into a secure truck.
The truck is safely transported to our secure shredding plant.
The paper is shredded, compacted, and recycled into new paper. The shredded materials are co-mingled and mixed up, scrambling the pieces thoroughly so that they can't be pieced back together.
The shredded materials are then taken to a recycling plans and you receive Certificate of Destruction.
At the plant, only authorized personnel come into contact with your documents. The Certificate of Destruction contains information about your shredding job, like the certified weight of the project and a list of witness signatures, verifying that the papers were shredded.

Get Free, No Hassle Quotes on Offsite Shredding Services in Ventura
Your security is our priority, which is why our Ventura contractors promptly shred your documents at a secure facility, ensuring your privacy and security. Ventura Shredding Service partners will shred any amount of documents you have, whether its one box or a warehouse full of paperwork.
To get started on your shredding project, give us a call at (805) 504-7839, or fill out the form on the left to receive free quotes for the Ventura area in minutes!