Mobile Shredding in Ventura
Finding yourself with more paper than you know what to do with? A box filled with paper can weigh around 30 pounds, meaning you could very easily a shredding job that weighs thousands of pounds.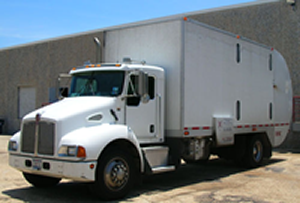 Many of our customers also want to witness their documents being destroyed to ensure their private information is safe from criminals. Fortunately, Ventura Shredding Service is aware of these nuances and provides a solution to both in the form of mobile shredding.

When you take advantage of a mobile service, that simply means that we'll send a truck equipped with a securely contained shredder directly to your Southern California location so that you don't have to worry about the hassle of dragging your documents all over town.

A shredding truck is capable of destroying up to 6,000 pounds of documents an hour. For projects larger than this, then off site shredding is typically a better solution.

If know you will need a shredding service on an ongoing basis, locked containers are brought to your location for you to place your documents for destruction in. When it comes time for your regular shredding service, our contractors will shred whatever is in the containers for you so that you don't have to worry about making space for all those documents in the meantime.

This option is great for businesses that regularly have documents containing sensitive information to dispose of and want to ensure they remain compliant.

How the Mobile Shredding Process Works in Ventura
In preparation, collect all items you'd like to shred in one location.
Your materials will then be shredded in a sealed shredding compartment on the truck. You are welcome to watch the entire shredding process to make sure your documents are destroyed.
When the shredding process is complete, the shredding operator will provide you with a Certificate of Destruction.
Your shredded materials will then be transported a secure recycling facility.
Contact Us Today for FREE Quotes on Mobile Shredding in Ventura!
If you have more documents than you can manage or want to witness your documents being destroyed, then mobile shredding is the right solution for you. Mobile shredding trucks provide service to homes and businesses in Ventura and the surrounding California area. Make the right choice for your private information by choosing an mobile shredding service. Let Ventura Shredding Service help protect you today. Fill out the form to the left, or call us at (805) 504-7839 to get started. We look forward to working with you!